DOB May 7th 2019
My habit is to let the name of the sire decide the names of the puppies. IF this litter had been two males and three females it would have been the Macahan family. But as it was four of each sex and I could not find eight names starting with Zeb I had to accept the minimum of all names starting on Z. some of the chosen names have been changed before registration. some others have got other call names than the names in SKK.
Tornaslättens Zeb – the sire of this litter. He was one of the dogs I described at my first as a qualified describer. Both me and experienced Barbro Carlsson were excited by this handsome male and suggested he should be on the stud list. He has been, but not used until Annethe at Lejondalens used him. Then I found a good picture of him and asked for permission to use him. Not only is he handsome male – he is has a fantastic mentality!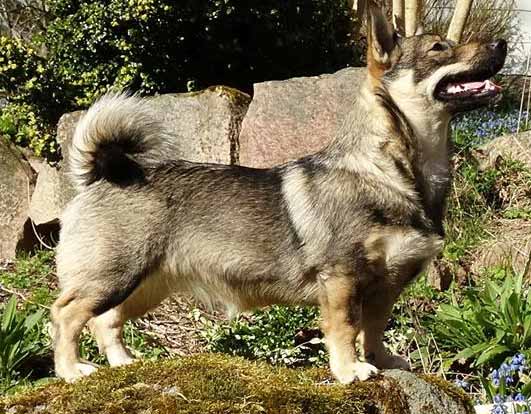 My Jeanne d'Arc Joyaux v/d Kloostertuin is really good too. A super bitch with a super mentality. On top of that she wealps easily and is a good mother. This is her second and last litter. I think that neither females nor males should have many offsprings as that may cause trouble in the gene pool. The more different dogs giving offspring the better is the chance to keep the breed healthy. I try to do as I preach so now Jeanne retires from breeding.
Between 15.47 and 17.31 Jeanne gave birth to six puppies – three males and three females.
Jeanne calmed down and took care of her litter and me and my "secretary" Birgitta A were happy that all went so well. We talked about how the names of the pups just popped up. I can't think of the puppies as #1, #2 and so on. They are individuals and have a right to have names, so they get their names almost as soon as they are born.
When we checked on the litter at 22.45 there was water in the whelping box. Then Birgitta said there are seven puppies; I said no there are six. She said "No – you have one and there are six in the box". Of course she was right – I had not re-counted. Soon after that the last puppy popped out.
So she had four of each sex.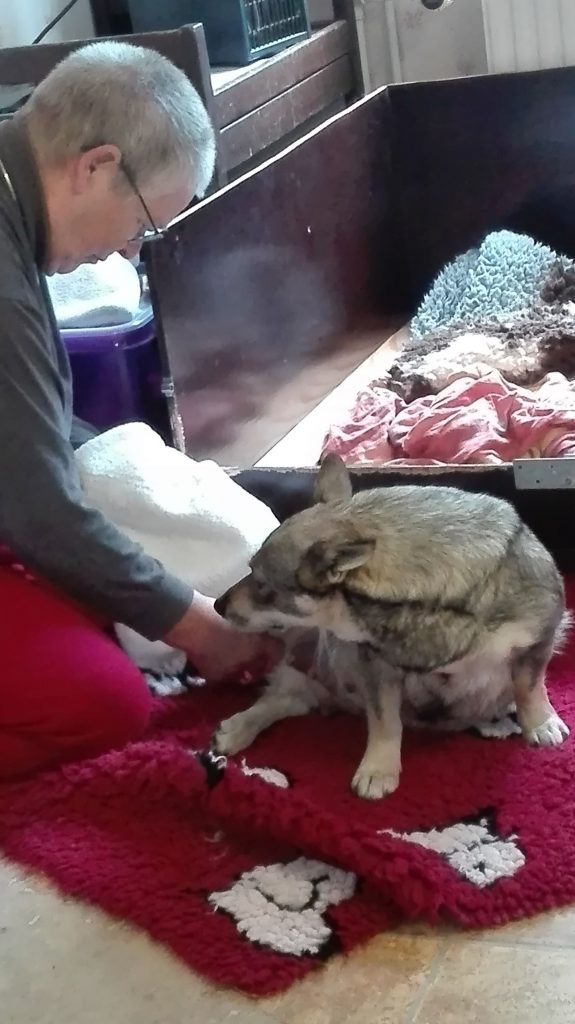 Now it is out with placenta and all.
Jeanne checks on her puppy.
Alla take a nap – each in her/his own style.
Zlatten the last born is still much smaller than the rest, but very energetic.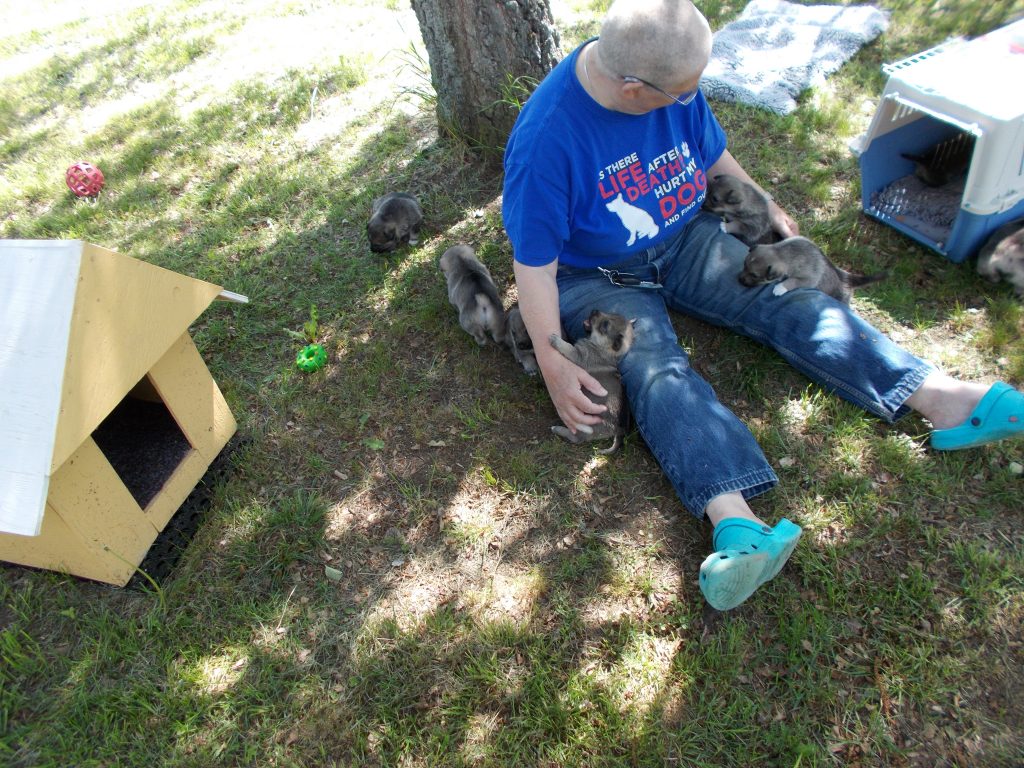 Sixth of June – our national holiday Connie Kisselhegn took portrait pictures of all the puppies.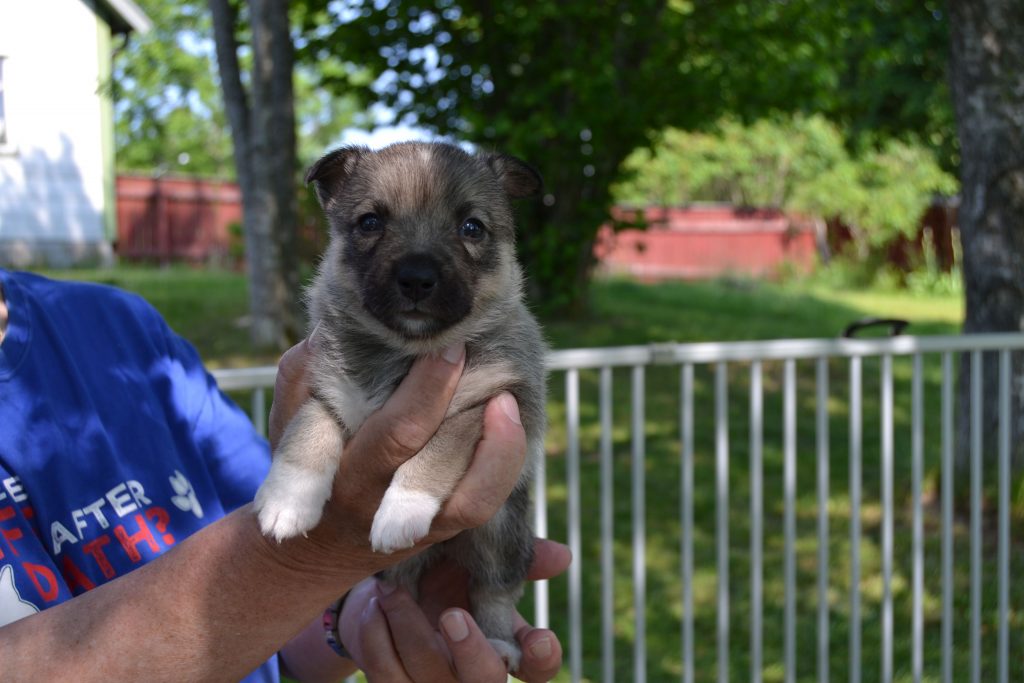 Zenit
Will stay at Duritzans
Ztumpe
Will move to Grästorp
Ztubby
Will live in Hörby. Call name Zorro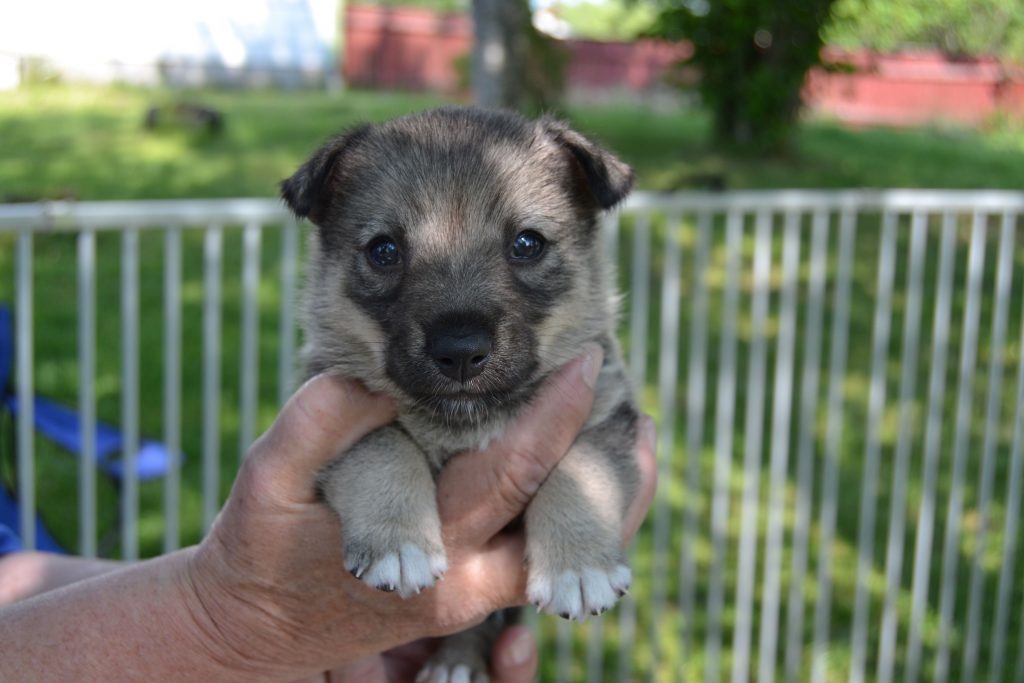 Zoom
Bought by grandpa's owners. Call name Bonny
Zelma
Will live in Denmark
Zebzzon
Will live closest to us – in Svängsta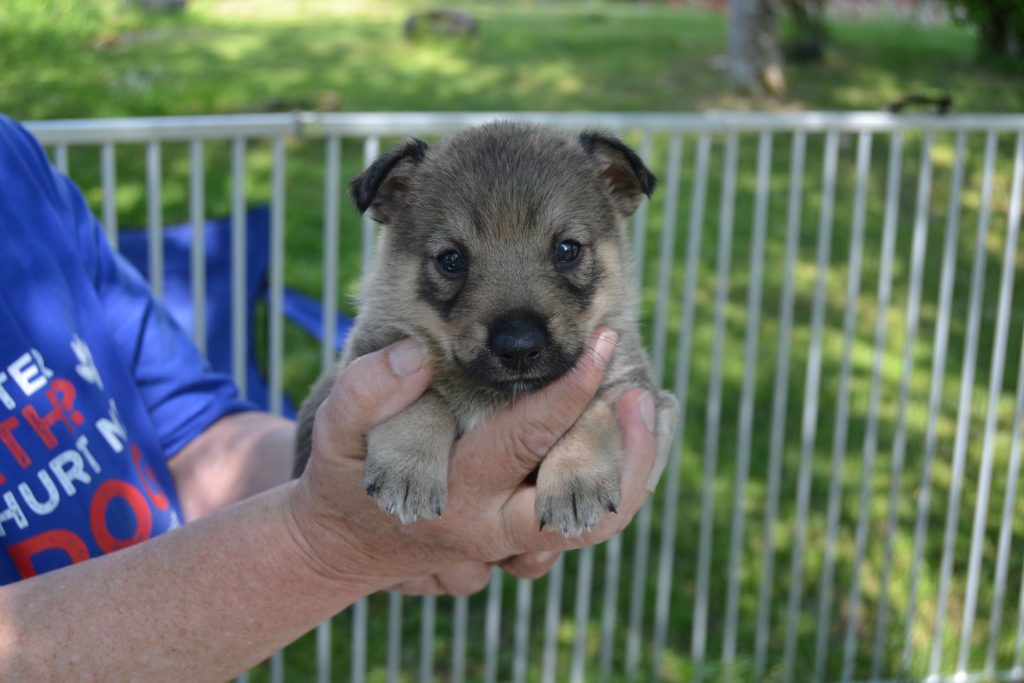 Zkrutten
The male with a tail. He will have to wait moving until we know why he puts his head to one side. He has now moved to Fårbo.
Zlatten
The smallest bitch. She will go to Stockholm.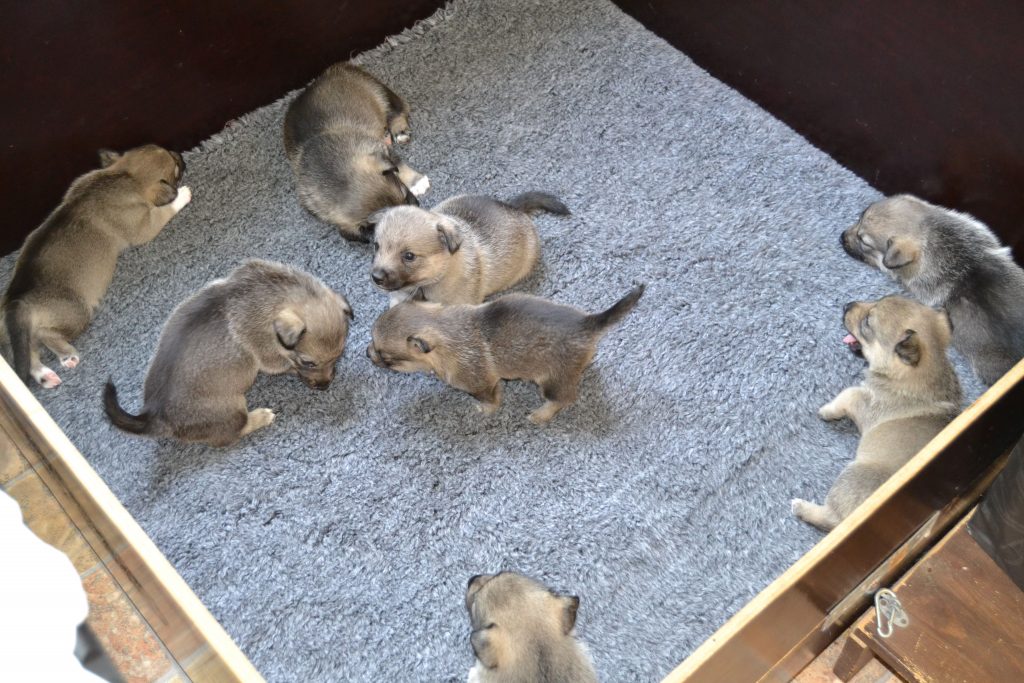 All puppies in the box for the last time. after this they are free to roam the entire kitchen.
Pictures from Nina's visit June 7th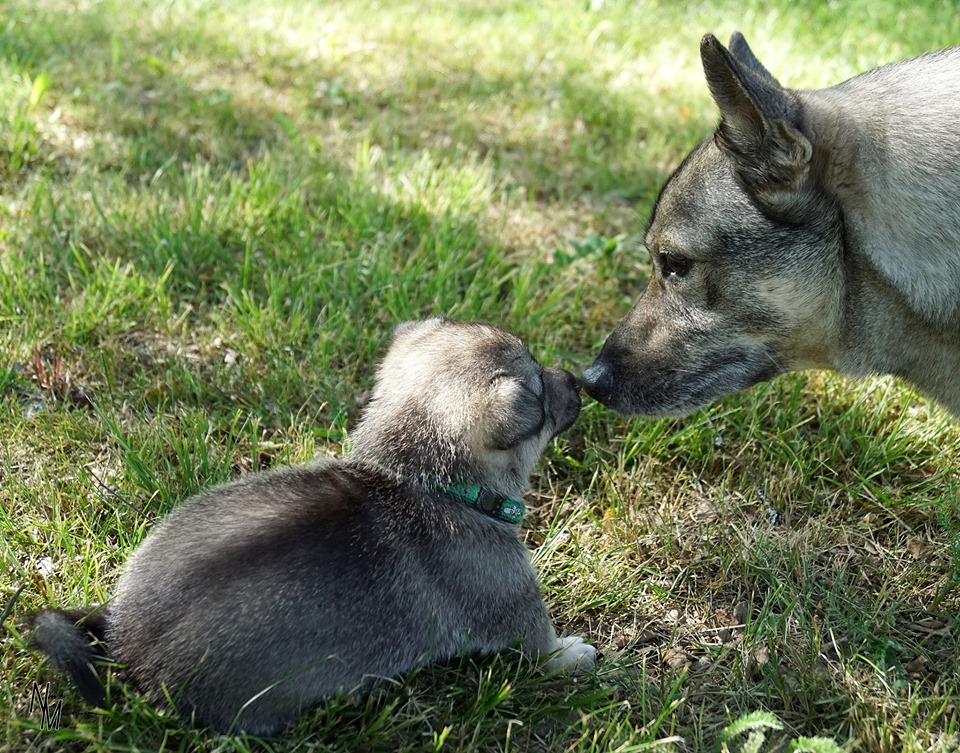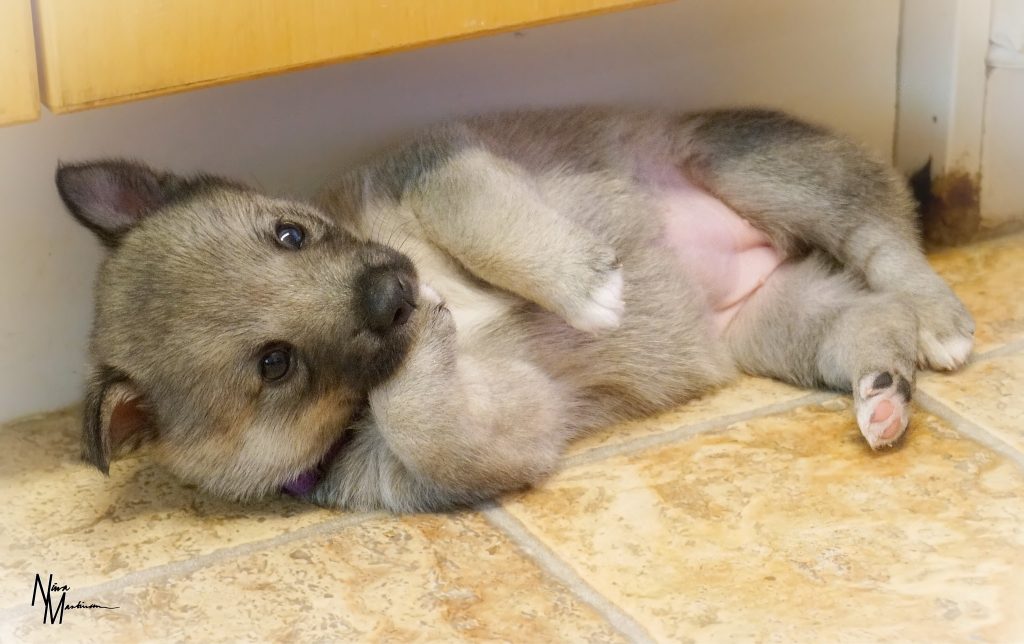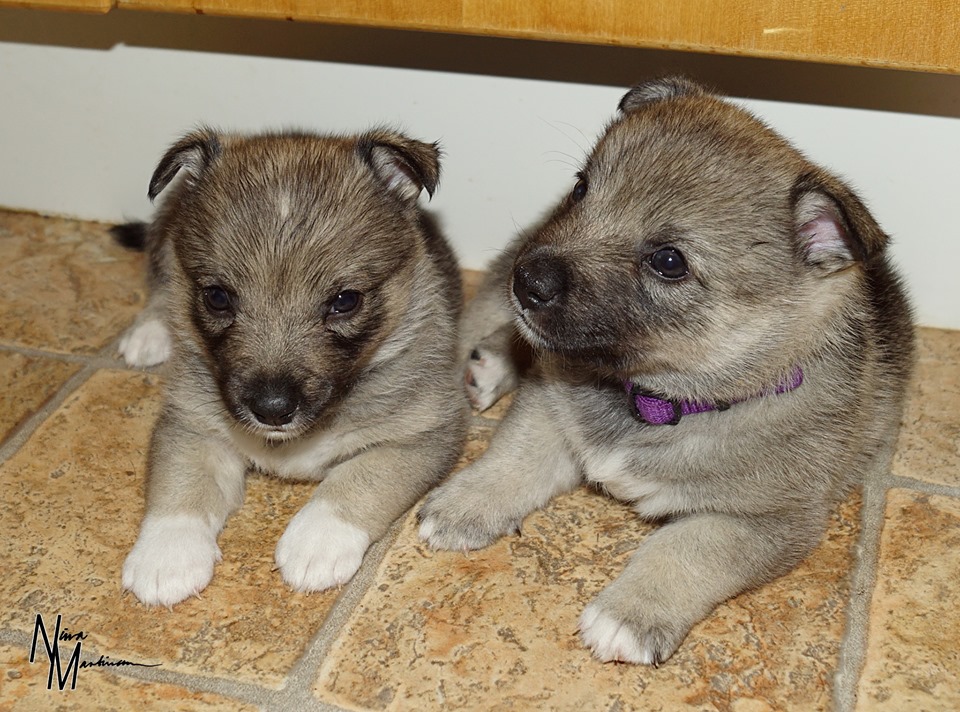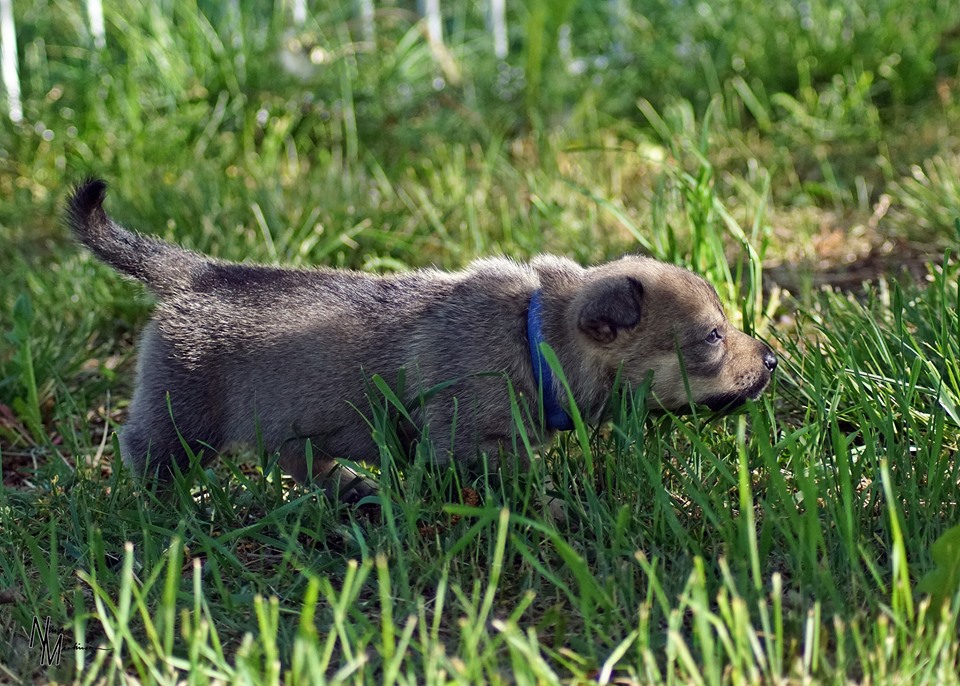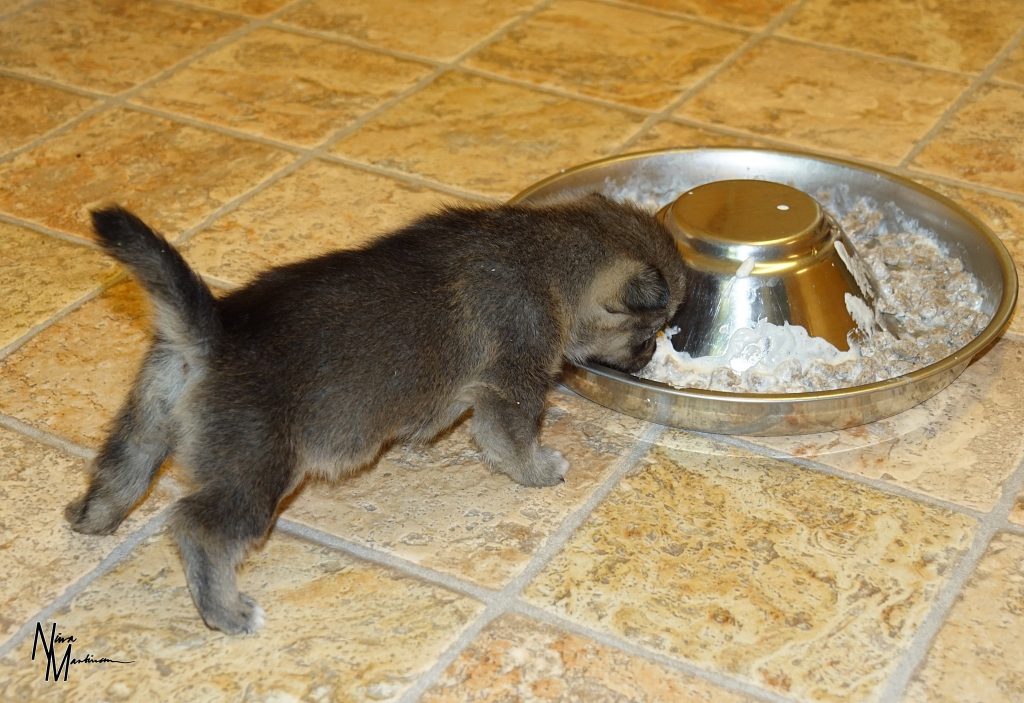 June 16 Things happen faster than I update. Now they get some treat from their mother a couple of times a day. Their food is soaked dry food and that has sped up thier growth. They have been dewormed twice and will get a last deworming before they leave (not that I have seen any signs of worms, but it isd written that one should). They are registered at SKK.
Monday we will go to the vet again – new DNA-samples. Now in order to contribute to the knowledge about genetic variation in the breed. All pups (except Zlatten) have a moving date.
They are in the "piraya age" so I am perforated from time to time when they don't know how hard they can grab/bite the fingers before I cry. But it is a fantastic luxury to sit on the floor/grass playing with the puppies knowing that it is the most important thing to do right now.
July 6 Now they are out in the puppy park all day if the weather is decent. They run about and play until they go out as lamps. They also have water and food available. In the evening I carry them indoors. It is impossible to get inside the puppy park without help. They are fast as the wind and before I have one foot inside half the litter is out of the park so I have to close the gate and jack the refugees up into the park. But if someone else get their attention I can sneak inside.
They have managed to walk on leash but the visit to Tingsryd I usually do with the puppies have been too much trouble.
July 9 A day for taking pictures. I am useless as a photographer

Fotograferingsdag. Jag är kass som fotograf och att få ordning på valparna själv låter sig inte göras. Men med goda medhjälpare – i detta fall Per-Olof Schön som lyfte ut och tog emot valparna och Birgitta Schön som tog bilderna – blev det iaf bilder. Med en bättre "handler" hade det blivit ännu bättre resultat, men uppställning har aldrig varit min starka sida…
Låt mig därmed presentera Zebkullen 9 veckor idag <3
July 9 A day for taking pictures. I am useless as a photographer and get the pups behave in front of a camera alone is not possible. But with help from friends – in this case Per-Olof Schön who handed the pups on their way out and back in and Birgitta Schön taking the pics – at least there were pictures. With a better "handler" it had been even better result, but stacking has never been my strongest side…
So let me present you the Zeb-litter 9 weeks today <3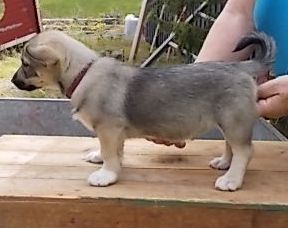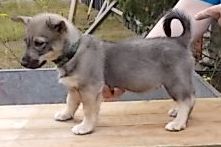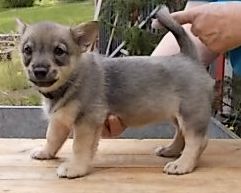 The pack enjoy themselves in the puppypark.
And when they got inside again they had their last deworming.